A Building Warrant is issued by the local Building Control office after they have reviewed all the detailed design information for the new home. Once the building control office has verified that the building design complies with all the sections of the national building regulations they will issue a building warrant which will allow work to begin on-site.
The application for a Building Warrant is usually made after the planning application for your new home has been submitted and planning permission has been granted. This is because the planning department may require changes to be made to your design.
Planning Permission and Building Control are two completely separate processes. Find more about planning here:
https://blog.neat-living.com/blog/how-do-i-get-planning-permission-for-my-self-build-plot
Do I need a building warrant?
If you are building a new house in Scotland, work cannot be carried out on-site without a building warrant in place. The process in England is slightly different, but ultimately the level of design detail you need to provide is the same.
What is included in the Neat Living Warrant Package?
Once the draft design of your new home is complete and we've prepared the necessary information for planning permission, the next stage is to develop the detailed design.

The detailed design falls into four main categories for the building warrant:

1. Detailed Architectural Design:
The Architectural design must be developed to show compliance with building regulations. This includes but is not limited to:

Development of architectural details showing the build-up of the wall/floor/roof construction at critical points in the building structure, such as the floor to wall details, wall to ceiling details etc.
The positioning of escape windows.
The positioning of safety equipment such as carbon monoxide detectors and smoke alarms.
Indicative plumbing and electrics layouts.

Our wall build-ups have been developed to maximise thermal efficiency, minimise thermal bridging and maximise air tightness.
2. Detailed Structural Engineering Design:
Our structural engineer will provide the necessary calculations showing that our building has been designed to comply with the national building regulations.
These calculations take into account; ground conditions, building materials, wind loadings and other important environmental parameters which the building must be designed for.
In order to determine the ground conditions, our structural engineers will require a site investigation (SI) to determine the ground conditions for foundation design.
We organise the SI and issue the resulting report to the structural engineers, as part of the Planning and Building Warrant package.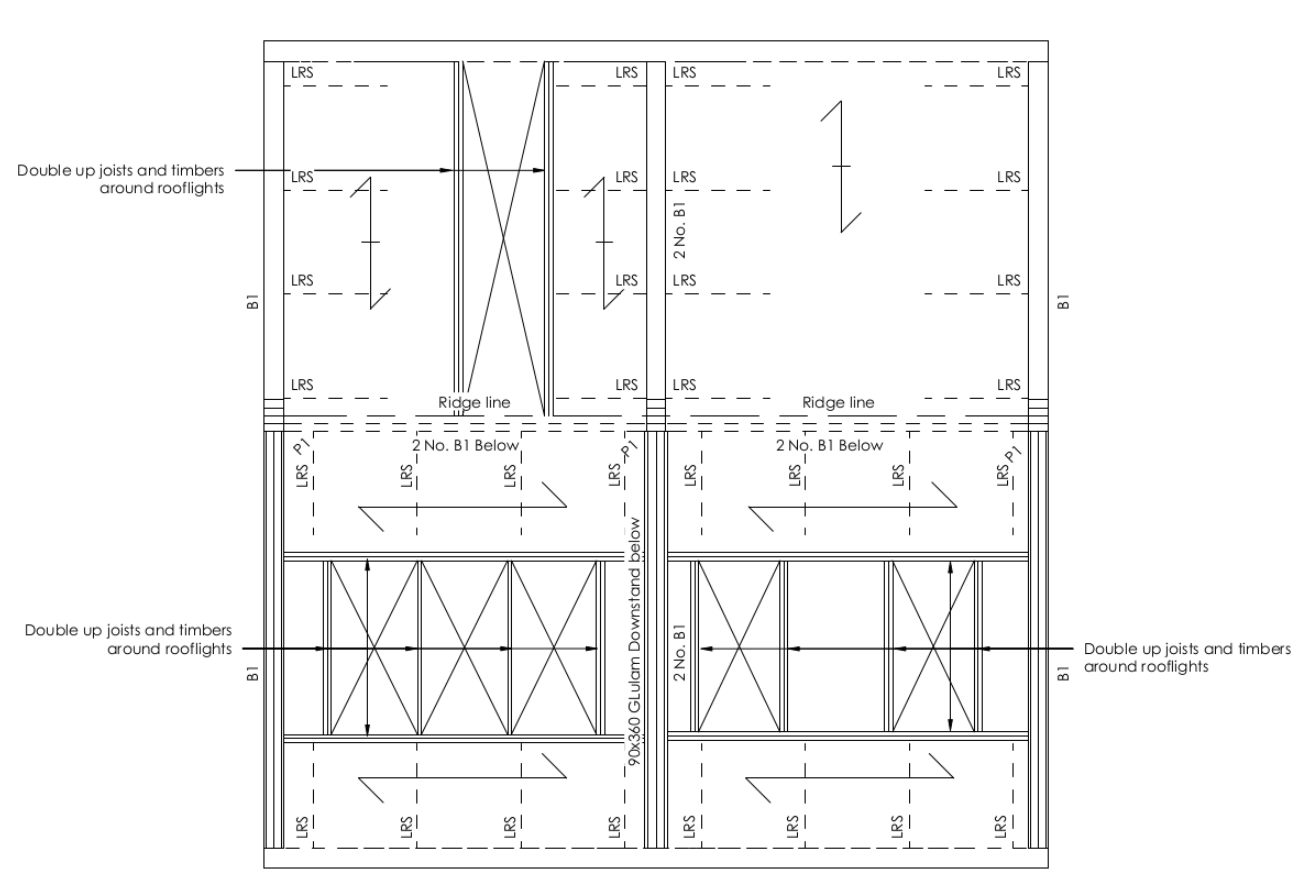 3. Detailed Energy Design: The thermal performance of the building must be calculated using Standard Assessment Procedure or SAP calculations. These calculations take into account the thermal properties of the wall build-up, floor build-up and roof build-up as well as other aspects including windows, doors and roof lights, etc., to determine how much energy your home will use over the course of a year.
The result of a SAP calculation is what is referred to as an Energy Performance Certificate or EPC. The EPC will grade the energy performance of your home from A to G (A being the best rating and G being the worst rating).

With our recommended specification, all our designs can reach an A rating on their EPC.
4. Detailed Civil Engineering Design: The civil design covers things like site access, road design and drainage design.
When we apply for planning, we are required to indicate how foul water and surface water will be dealt with on the new development. When it comes to preparing for a building warrant, the drainage design needs to be sufficiently detailed, therefore we will usually involve a civil engineer to complete this aspect of the design.
In most cases, the civil engineer will carry out a water permeability/infiltration test on the site. Through testing and analysis, combined with practical knowledge and experience, the engineer will determine what surface water drainage system will be most suitable for your site and this information will then be incorporated into the warrant design package.
Another element where a civil engineer is very helpful is if any road or access design needs to be considered. The extent of this design work is very site-specific but it could involve the design and make-up of a roadway, associated drainage, kerb and splays at junctions among other aspects.
Neat Living can provide all the above design information for your building warrant application.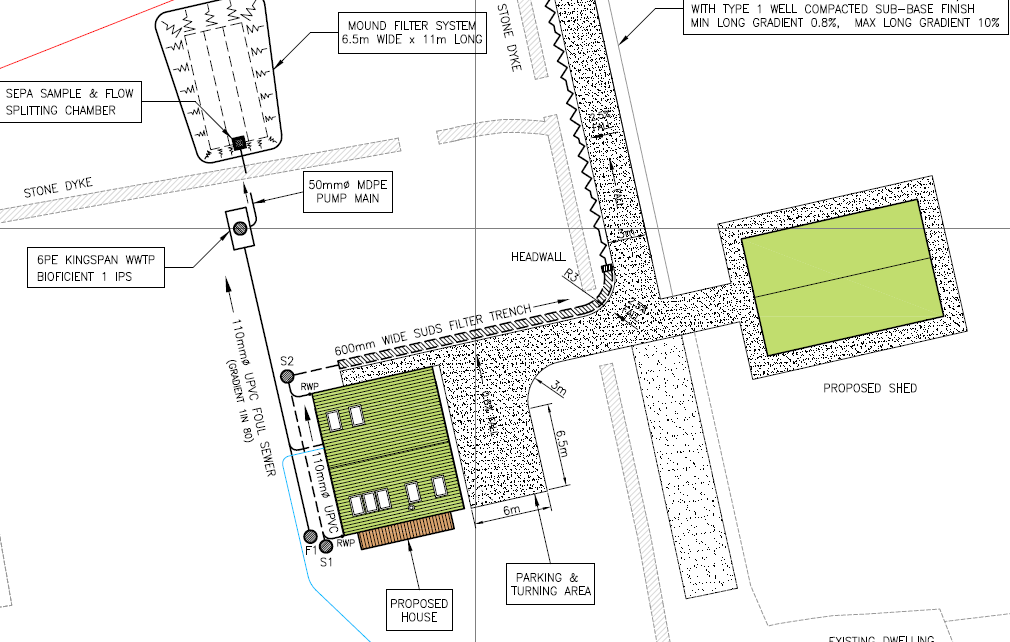 What is an approved certifier of design?
As we've mentioned above, Building Control will need to look through all the design information to ensure that your new home meets building regulations. This obviously takes time because the building control officer has no previous knowledge of your project and consequently must take the time to interpret all your design information.
However, if you use an approved certifier of design, you can fast track the checking process by allowing the building control officer to skip certain sections of your design.
An approved certifier of design is a professional designer who is deemed by Building Control to have an excellent understanding of building regulations. Consequently, by employing an approved certifier of design for i) structural design and/or ii) energy design, the building control officer will consider these elements of the design to be pre-approved.
For the structural design, an approved certifier of design will provide a Structural Engineers Registration (SER) certificate. This certificate is a statement by the designer which confirms that the structural design related to your project meets building regulations.
For the energy design, an approved certifier of design will provide the Section 6 (Energy) certificate. With this certificate, the designer is stating that their assessment of the energy use of the home complies with building regulations.
If you are able to produce an SER certificate and a Section 6 compliance certificate you will be able to claim a discount on your building warrant fee of 10% for each certificate you are able to produce.
At Neat Living, we provide a full Planning and Building warrant service. As part of this service, our approved certifiers for structural and energy design are able to make both the process of obtaining these statutory consents as fast and as cost-effective as possible.
We are also able to organise any site investigations that may be required to aid with the foundation and drainage design.
Find out more about our services: https://neat-living.com/self-build-services/
If you would like to contact us - please leave a comment below and we'll be able to come back to you.