Are you looking for inspirational design for your self-build home?
For many people, kit house designs give them the peace of mind that they will get an amazing home without the cost and risk of designing a house from scratch. For others, an architect is the key to fulfilling their dream house. It depends on what your budget for design is and possibly how many episodes of Grand Designs you've watched! So, what's the difference between these two routes?
Self build design options
Architect
Getting your dream home designed by an architect is always going to be more expensive than looking at a pre-designed kit. Architect's fees are generally around 10% of the total self build cost which could be between £15,000 to £20,000. For that extra cost you're getting something that's designed to your exact requirements and looks exactly the way you want it to. The disadvantage of this route is that you won't be able to undertake a proper cost plan, let alone a tendering exercise, until after the design is complete. This means that you may have to revisit the design and change elements of it to save on cost.
Kit Homes
Kit houses won't come with a hefty design fee and will be cheaper to build. However, some house kits lack the character and design quality you'd get from an architect designed house.
When choosing a kit house manufacturer, it's important to consider your requirements. Not all kits are created equal! For example, how important is it that your self build design is future proofed by being energy efficient and built using sustainable materials?
If you're doing research into designs for self build homes, did you know that there is an alternative solution? Have you thought about an Eco Kit home, by Neat Living?
Flex Eco Kit Homes
At Neat Living we offer the speed, quality and value of a kit home with the highest quality engineering and energy efficient standards. Our Flex range of houses have all been fully designed by an architect, a structural engineer and services engineers. That means professional fees are lower than going to an architect and starting from scratch.
We can provide you with a range of self build services, including everything from ground investigations to building warrants and your furniture fit out.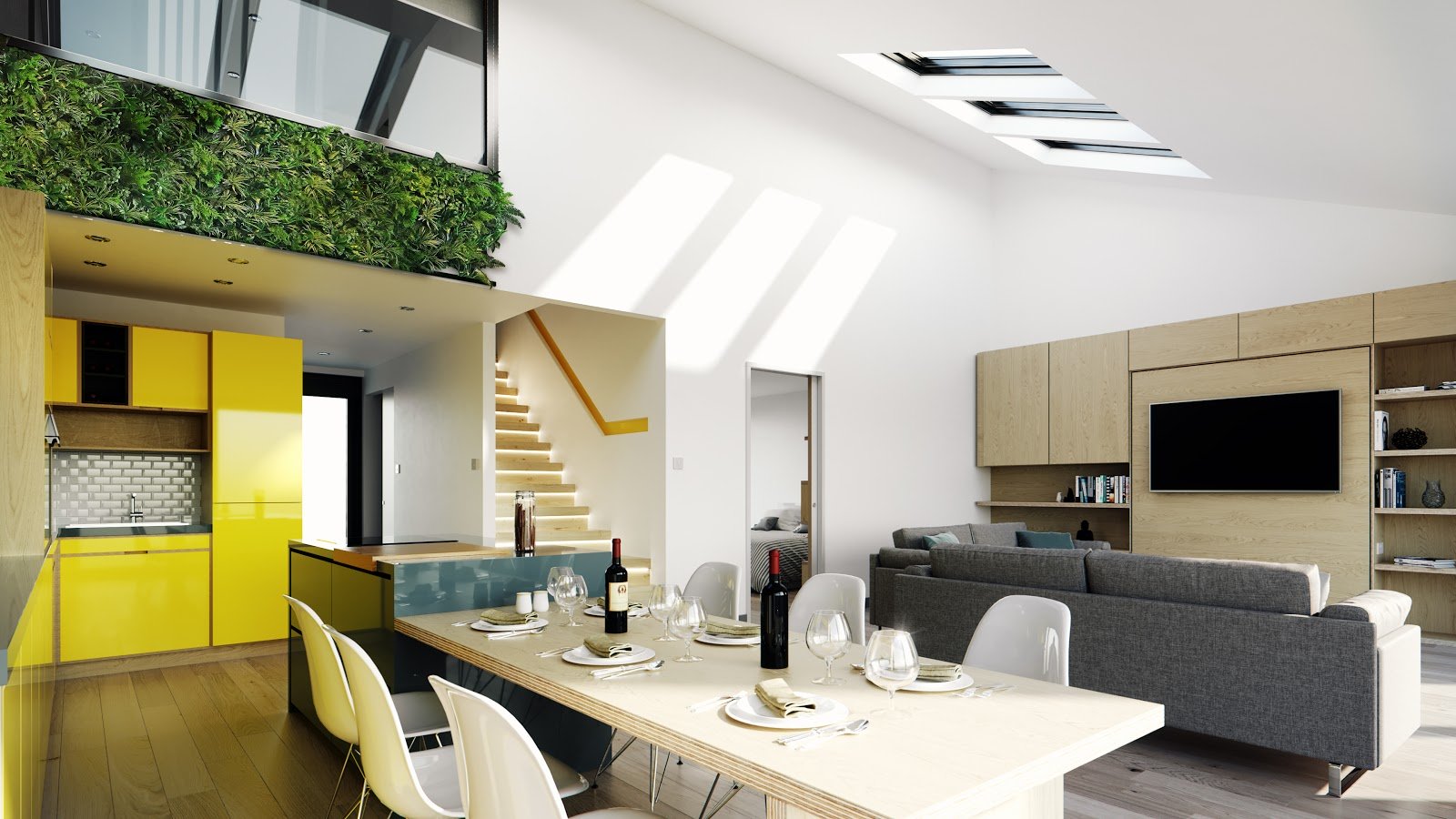 Neat Living - Flex House Range - Bright, modern and spacious interior.
Our homes are also very distinctive and even though you're buying off the peg we've put in the time to design something that looks great and has loads of personality. Our homes are designed to be long lasting, energy efficient and low cost to run from the outset. Why? It's part of our mission to create beautiful homes designed to minimise the impact on our environment.
If you have your heart set on specific technologies or custom elements such as solar PV or car charging, you will want to speak to an expert whether its an architect or in-house designer of a package house company.
Want to find out more? See our nine key elements to building a sustainable and future proof home here.