According to the Homebuilding & Renovating Self & Custom Build Market Report 2017, more than half of self build projects go over budget.
In fact, researchers surveyed over 500 self builders and reported that projects typically went over budget by a whopping 20% - so on a £250,000 project, that means spending an extra £50,000. That's a lot of money to find, never mind at the end of a build.
Let's get started - do you:
1. Want to know how much your self build project will cost you - and you want to get a grip on the main issues?
2. Want to reduce the chances of your self-build going over budget?
3. Want to get your numbers prepared - so you are ready to speak to a mortgage broker?
Great - then we've got a quick 5 min read that's perfect for you. Onwards!
In this post we'll not only outline what you need to include in your budget but touch on a few things to think about as well. This should be the very first step for any self builder. So what can we do to ensure your budget is calculated properly?
---
Neat Living can help you create a detailed budget cost plan for your project using industry expertise before you spend any money on design. A cost plan is helpful because:
It brings into focus all of the anticipated cost headings for all of the sections of work.
It is a cost effective way to question whether doing a self build is the right answer - before committing to the build.
A site specific project cost plan is essential preparation to have completed, before approaching a mortgage broker. By doing so, you will be going into a conversation armed with reliable information.
---
The costs for your self build home can be split into the following main elements:
Self Build Plot and Utilities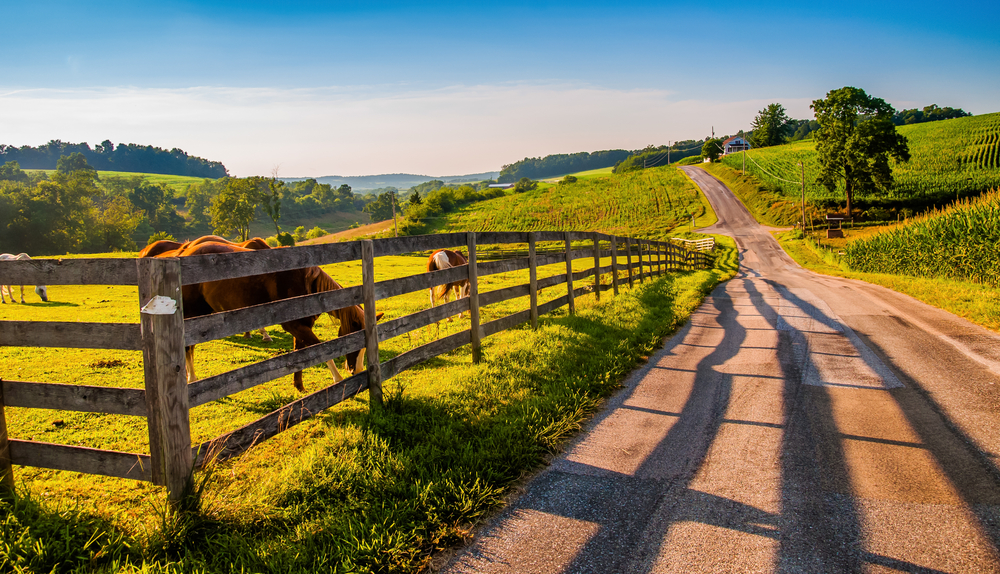 The cost for your plot could vary considerably depending on the size, location, planning permission etc. Apart from setting aside money for the plot itself (and remember, you can get a self-build mortgage to help with the plot purchase), there are a few things to think about when buying a plot that would need to be included in your budget:
Is the plot serviced? If not, there is a cost associated with utility connections typically at the boundary for water and electricity etc., and running those across to the new house.
Remember that Neat Living homes do not require mains gas, or LPG, so that is a big saving, straightaway.
Drainage and or a septic tank installation, suitably located within the site will be needed.
Does the plot have planning permission? Plots with planning permission are much more valuable than similar plots without permission.
The gradient of the site. If the plot is steep then as a general rule steeper plots will require more ground work to prepare the site for construction. However, one of the most important aspects is to survey the plot to generate an understanding of ground conditions.
Legal and related conveyancing fees and charges, incurred as part of the plot purchase.
Professional Fees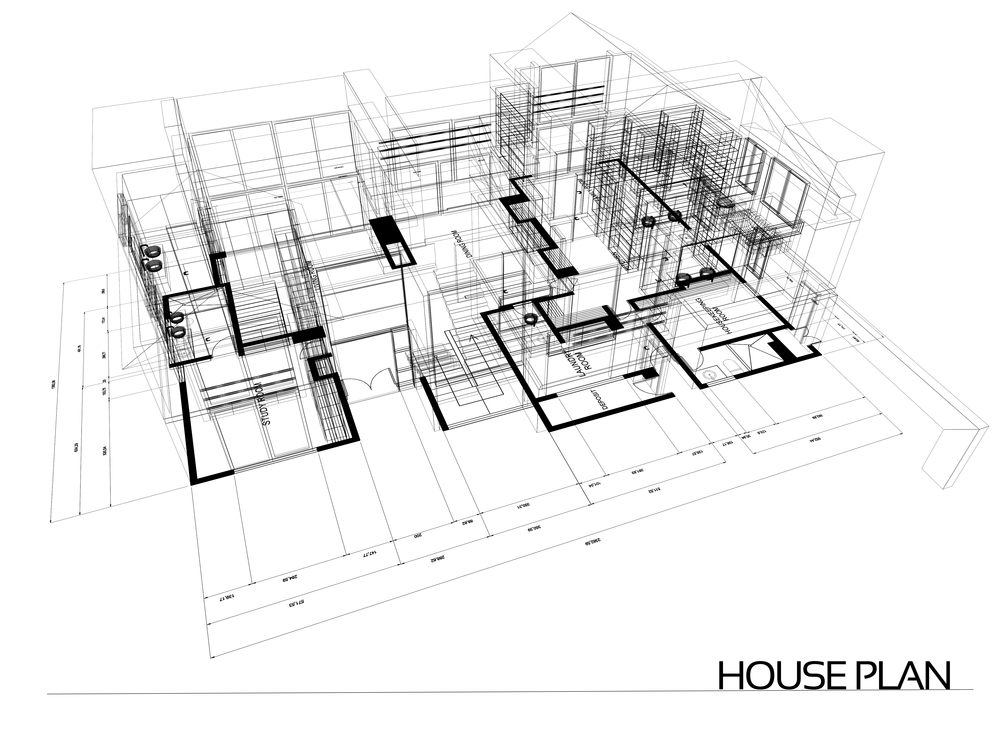 In most self build projects, there will be professional input for architecture, services (mechanical/electrical/plumbing) as well as structural and civil. This is distinct from legal and statutory fees.
An architect to design your house, help with planning permission and building warrant, help make design decisions of building and finishing materials etc.
A structural engineer to design both the structure of your home and the foundation arrangements to suit the structural loadings and ground conditions.
A civil engineer to design the foul and surface water drainage, road access etc.
A services engineer to design the heating, hot water system and the electrics. Increasingly, a services engineer will also design renewable energy systems and controls.
Each of these will have associated professional fees which you'll need to take into account.
We should mention that for the standard building Neat Living customers do not pay for architecture, structural or services design for the house structure itself, as the Flex range is a fully designed solution. There are charges for project specific aspects.
However, if you are doing your own bespoke project then budget accordingly. Design fees will vary but an on a notional project cost of £250,000, professional fees could range from £15,000 to £25,000. Have you read just how much does it cost to hire an architect?
Remember that professional fees are often expressed as a % of the build cost but often the customer cannot establish what the build cost will be quite possibly until the project is complete. Ideally, you need to establish what the fixed cost is for their involvement - at the outset.
In addition, you'll need to consider legal and related administration fees. Don't forget about Stamp Duty Land Tax if you're buying in England, Wales or Northern Ireland or Land Buildings Transaction tax if you are buying in Scotland.
Cost certainty
A challenge that self builders face is knowing from the outset how much their project will actually cost - this is known as cost certainty. This issue is worthy of a detailed blow post all of its own but for now there's three tips we want to share with you that you might be useful to think about - and we need to get off our chest!
Tip No. 1
Making the right decisions about how you approach the design, procurement and construction of your project will determine how successful, or otherwise, your project is and whether it comes in on or exceeds the budget. The analogy of getting an oil tanker to slow down and change direction is appropriate! It's really hard to bring costs back into line if you unintentionally set off in the wrong direction and find yourself needing to alter course mid project. Our first tip is to make sure you have a complete design for the entire project including architecture, mechanical, electrical and plumbing services as well as all of the structural aspects together with groundworks and external services.
Tip No. 2
It seems obvious, but do not be tempted to start on site until you have agreed costs and this requires a detailed and complete design. If you commence the project without a cost plan which is then market tested you are leaving yourself wide open to all manner of risks, which will have time and cost implications. Start with a cost plan.
It is worth mentioning that a project must not start in Scotland without a Building Warrant.
Tip No. 3
Beware of square metre rates (m2) when trying to make detailed project decisions - as m2 rates have to be taken with a healthy dose of salt because they are usually caveated to the hilt or are so broad in range (to/from) that they are a waste of time. It is temping to think that comparing a m2 rate between companies offering competing products allows for a direct comparison but this is really only true if comparing apples versus apples - which isn't often the case. Trying to evaluate the quality and benefits of one over another is a useful exercise.
Statutory Fees
Your local authority will charge for submission of planning applications and building warrants. These fees are usually quite reasonable and are proportionate to the size of your project. Your local authority usually has all of this information online.
Groundworks and Site Preparations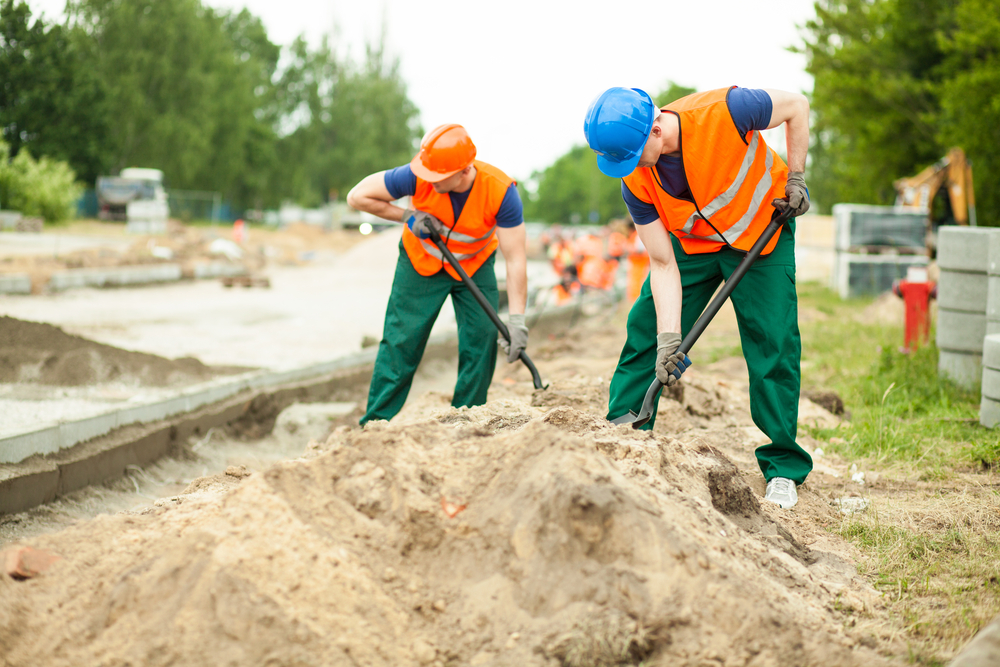 A ground investigation will give you more information about what the ground is made up of, i.e. is there clay, are there large rocks etc? This information will allow the structural engineer to design the right type of foundation for the structure and, for example, to meet local wind conditions.
The ground investigation will reveal how effective the ground is at dispersing surface water. If the ground is determined to hold water then a surface drainage system will need to be designed and installed. Surface water drainage is usually required. Neat Living's Self Build Services can help to organise any survey you require.
In many cases, if you are using a timber kit manufacturer - who erects the kit for you, the groundworks and foundations will typically be carried out by a separate contractor. You will also need to factor in costs for creating access to meet the local authority's specification and landscaping etc.
Timber Kit Home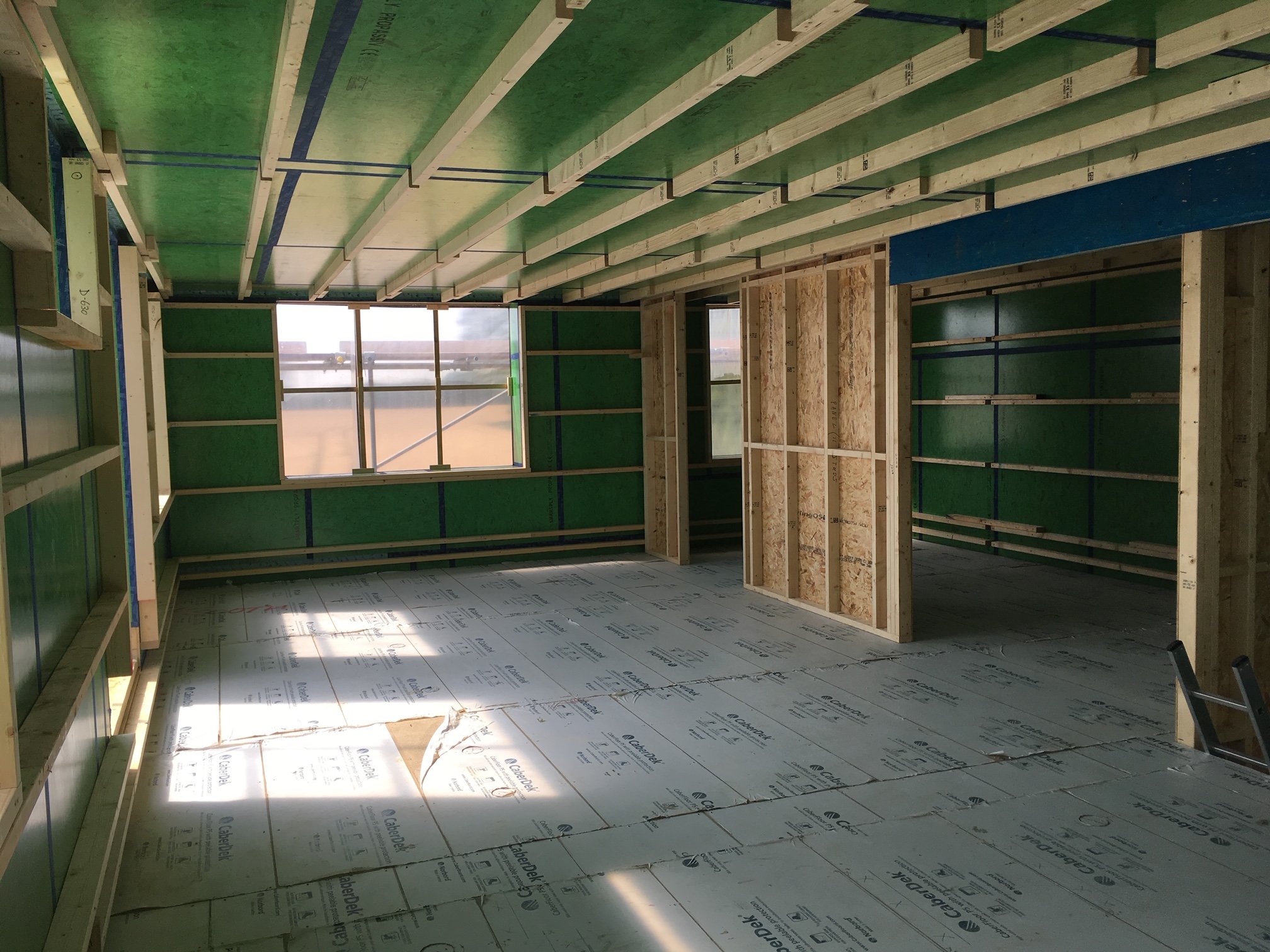 Our precision engineered eco kit homes have been designed to maximise thermal comfort and durability. Due to the high quality air tightness that is required as part of an eco kit home, we only offer a manufacture and erect service - we don't allow anyone else to erect our kits.
For more general timber kits, two options exist - supply only and supply and erect.
If your kit manufacturer does supply only then you'll need to hire a suitably qualified erection team yourself. That is an interface you need to manage - the erection team must construct the kit in accordance with the relevant manufacturers instructions. If subsequently there are construction issues, identifying who was responsible may be difficult - so be aware of this.
A timber kit package usually consists of all the major structural elements that make up your home including; walls, roofs and intermediate floors.
Comparing apples with apples is usually very difficult because of the wide differences in specification between timber kit companies and what they provide. Size of timbers, open or closed panel and quality of insulation all needs to be evaluated. You'll need to dig a little deeper into the information you're given to make sure you know what you're getting. There is a world of difference between different insulation choices or how the building materials will breath to allow moisture to wick away from the inside to outside. These points are extremely important, especially in an eco home.
When you get a quote from a timber kit manufacturer you'll be surprised by how "cheap" it may sound. Please be aware that there's a lot more to do and that's why it's important to have a comprehensive budget cost at the outset. The old adage - you get what you pay for is often true.
Insulation, windows, external wall and roof cladding are not usually included as part of the "Wind and watertight" stage, so it is still likely for wind driven rain to make its way into the structure.
At Neat Living we will deliver and erect a wind and watertight kit that will be up in a matter of days. Our kit is manufactured off site and fitted with two layers of high performance and natural insulation.
External finishing
External finishing includes moving from the wind and watertight shell to finishing the home externally.
Once the kit is up, the next stage is to install all the external cladding to get the structure to a truly watertight stage.
Some companies offer an "External Turnkey'' package which means that the company will basically take the house to a stage where it looks finished from the outside. At this point, the house is essentially as waterproof as it's ever going to be.
This usually entails fixing all the external cladding or chosen wall finishes, roofing, detailing around windows etc.
Internal finishing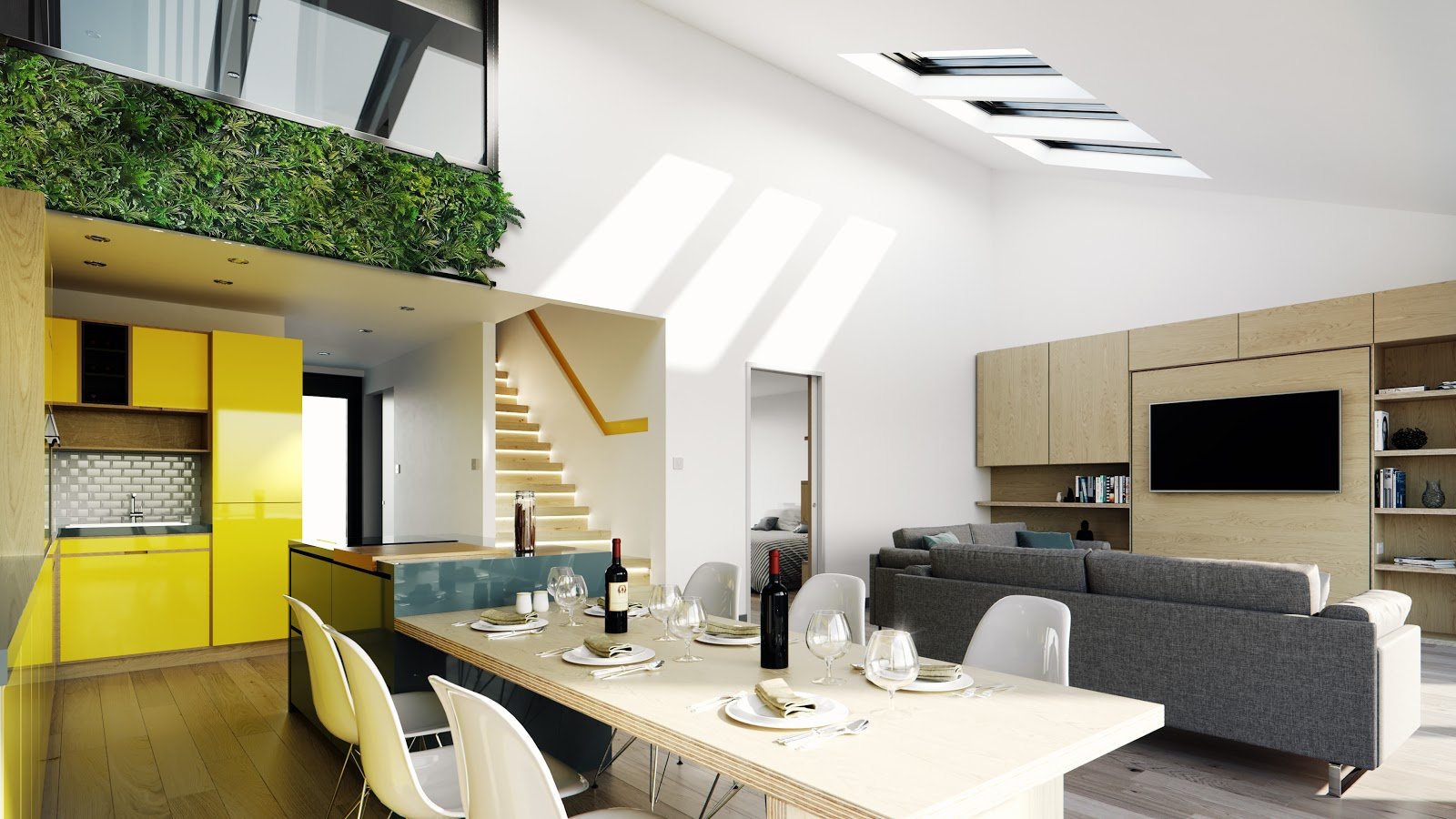 An advantage to customers with a kit home is the flexibility around how the floor space can be divided up into different rooms and spaces. From the budget planning perspective, this necessitates the need for customers to really consider the details.
The key to finishing the interior fit-out, on time and on budget is to ensure that all aspects of the design is complete - ideally down to specifying the position of the last socket and if you want a particular tile or tap or units you absolutely must have these resolved in advance, before you start the project.
Once this is all known then it is a much more straight forward process to prepare tender information and seek competitive prices for all of the works and then compare and contrast the offers before deciding who to place orders with. Suppliers gain confidence that they know what work they have to do and will price for it accordingly. If the drawings and specification are unclear or incomplete - with "to be agreed on site" remarks, then you are leaving yourself open to dispute and delays, i.e. higher costs.
The advantage of this turnkey solution means that we can work with you to focus on the right tradesmen to do the work and if they are local you'll be able to benefit by reducing travel and overnight accommodation costs. You'll be able to choose between companies and you'll be able to choose the right company at the right price.
To recap
No matter where you are on the self build journey, the crux of this post is to emphasise the benefits and need for budget planning.
Having a budget organised at the start is such an important step - hence why we've discussed cost certainty and the benefits of having a thorough design that allows a cost plan to be prepared. We've summarised the key aspects that should be thought about - and we've deliberately shone a light on some of these challenges.
With Neat Living, there is no charge for the design cost for the architectural, structural and services design for the homes in the Flex range. Another major benefit to a self builder is that because the Flex range is already complete, you can create a budget cost plan and reach cost certainty quickly and easily.
What's next?
Would you like to find out more about organising a budget cost for your build? Call us today on 0141 297 1927 or you can schedule a call using the link below.